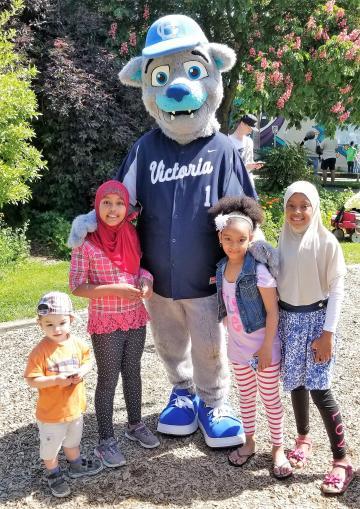 The Victoria HarbourCats are a local semi-professional baseball team that the whole community can enjoy watching on any warm summer evening at Wilson's Group Stadium at Royal Athletic Park. The HarbourCats are a recent member of the Community Partnership Network (CPN) and believe that sport can bring diverse communities together. The HarbourCats joined the CPN in 2018 as part of the team's commitment to promote diversity and inclusion both inside and outside the ballpark. When spring arrives each May, the stadium comes to life as kids, adults and seniors from different cultures, faiths, gender, sexual orientation, etc. - gather to share in the excitement of HarbourCats baseball.
The HarbourCats are proud of their inclusionary practices. Speaking with Richard Michaels, the team's Director of Community Relations, inclusivity is about creating a culture of respect. This means the HarbourCats create a monitored safe environment to ensure everyone who attends the ballpark feels welcomed and included. There is no tolerance for discrimination or conflict at the ballpark. Reaching out to broader audiences, the team has introduced a series of special initiatives to ensure baseball is more accessible to new and diverse communities in Greater Victoria. These initiatives include: providing age-appropriate pricing for youth and seniors, hosting diverse cultural food vendors, taking baseball games on the road up island, and offering an annual sponsored game that allows residents who have never seen a baseball game to attend for free and experience baseball at its best.
When asked why the HarbourCats want to reach out to diverse communities, Michaels explained: "We aren't just inclusive of diversity, but rather, we celebrate it! Each individual has unique qualities and experiences that contribute to our team's mission and values. Special exhibition games with, for example with Cuban and theme nights such as "faith night" are open to everyone. These are important ways we support and display diversity both on and off the field. Our efforts continue beyond individual events. We reach out to and foster ties with community and cultural organizations with group prices, we invite community groups to set up information tables on the concourse, and provide non-profit organizations the opportunity to raise funds through our 50-50 draws. Joining the Community Partnership Network and working with the Intercultural Association of Greater Victoria has been another exciting step to invite and reach out to different communities."
The HarbourCats want EVERYONE to enjoy a day at the park, as they cheer their favourite players, enjoy multi-cultural food vendors, watch great baseball, and get to know their neighbours. When people from all walks of life gather together, it creates a better atmosphere for all. That is why the HarbourCats value, include and celebrate diversity. Come on out and enjoy a day at the ball game!
For more information about the HarbourCats visit their website: www.harbourcats.com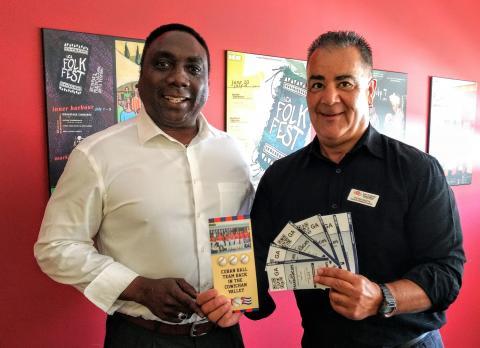 Photo: HarbourCats Director of Community Relations, Corporate Sponsorship, Richard Michaels (left) with ICA Community Development Coordinator, Steve Baileys (right).
By
Richard Michaels: Victoria HarbourCats Baseball Club / Director of Community Relations
Celeste Macevicius: University of Victoria Anthropology / Undergraduate student
Told by:
Richard Michaels: Victoria HarbourCats Baseball Club; Celeste Macevicius: UVic.