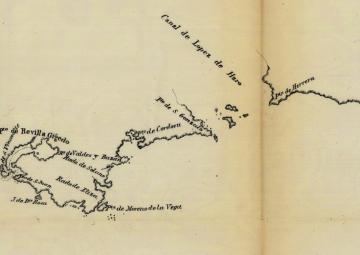 Quimper at Sooke - Expedition of the Juan de Fuca Strait
To further his navigation of the Strait of Juan de Fuca, Manuel Quimper relied on indigenous intelligence, from which he learned of the existence of the Sooke harbour. Due to contrary winds and currents, Quimper was not able to anchor the schooner Princesa Real inside the Sooke Inlet for three days. However, as weather conditions settled and the wind became more favourable, the schooner was able to anchor at the entrance of the Sooke harbour on June 19, 1790. At Sooke, Quimper observed two indigenous settlements, from which an abundance of food was brought to the Spanish. In exchange for the food, Quimper gave the chiefs copper. While doing a reconnaissance of the area surrounding the harbour, the Spanish spent a few days creating an in-depth chart of the harbour. When the chart was completed, Quimper performed an Act of Possession for the Spanish empire on June 23, 1790, naming the Sooke Inlet "Puerto de Revilla Gigedo," in honour of the viceroy of New Spain. He also named the sand spit at the entrance of the harbour, what is today Wiffen Spit, "San Vicente," also named after the viceroy. Because of constant fog and less than ideal winds, four days passed before the Spanish were able to depart from Sooke. On June 28, 1790, Quimper, his officers, and the crew boarded the Princesa Real and left Sooke to continue the exploration of the Strait of Juan de Fuca.
A quote from a translation of Quimper's diary on taking possession at Sooke by Henry R. Wagner:
"I planted it[Holy Cross] in the name of His Catholic Majesty Carlos IV...I gave the name 'Revilla Gigedo', had three salutes of musketry fired on shore and one of the sloop of twenty-one shots."
Sources:
Drury, Devon. 'The Immerse and Dangerous Sea': Spanish Exploration and Imperial Policy and Power During the Exploration of the Salish Sea, 1790-1791. University of Victoria, 2010.
Wagner, Henry R. Spanish Explorations in the Strait of Juan de Fuca. Fine Arts Press, 1933.
Map of the Juan de Fuca Strait by Quimper's second pilot, Juan Carrasco, 1790.
Image adapted from http://petergrantwriter.ca/wp-content/uploads/2016/04/1790-Plano-del-Est...
To continue the story of Quimper's expedition of the Strait of Juan de Fuca, go to Esquimalt Harbour
To learn more about the Spanish Acts of Possession, go to the link/story/acts-possession
Background information on Manuel Quimper and his expedition Quimper's Expedition of the Strait of Juan de Fuca