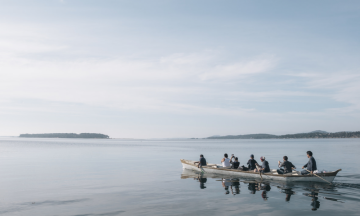 On August 9th, 2014, the W̱SÁNEĆ Nation went reef net fishing to reclaim a practice that the colonial government outlawed a hundred years ago. Nick Claxton (XEMŦOLTW̱), Tsawout community member and PhD candidate in UVic's Department of Curriculum and Instruction, has made it his life's work to revitalize the reef net fishery (SX̱OLE) in his community. Over the past year he built a reef net model alongside students and teachers in a local school, ȽÁU, WELṈEW̱ Tribal School. The project was so successful that teachers throughout the school—math teachers, science teachers, socials teachers—began to teach their subjects through the model net.

Meanwhile, with the help of their relatives at the Lummi Nation (Washington, US) who had recently undergone a process of reef net resurgence, Nick and members of the W̱SÁNEĆ Nation began to build the first W̱SÁNEĆ-made reef net in over a hundred years. In an act that will go down in history as the resurgence of a core part of the W̱SÁNEĆ Nation's social, economic, spiritual, and educational society, the reef net was set at a hereditary fishing location (SWÁLET) off of Pender Island on August 9th, 2014.

The short video below will give you a sense of the power of that day and what it means to "carry on our fisheries as formerly," as agreed to in the Douglas Treaty signed by the Saanich people in 1852.