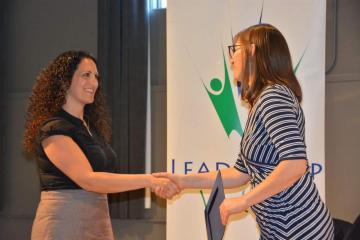 Leadership Victoria (LV) is a community-based organization originally founded in 2001. The mission of LV is harness high-levels of local experience to develop the kind of hard-working and passionate leaders who know they want to change their community and the world.
Leadership Victoria has been a member of the Community Partnership Network (CPN) since 2014. As part of its commitment to fostering inclusion and diversity, Leadership Victoria focuses on developing and training participants to be active leaders in the community. The LV program consists of 50 professional mentors who volunteer their time to share key knowledge and experience with participants. These mentors bring a rich background in academia, government, business and not for profit organizations. Over the course of the LV's four-month program, the mentors and participants collaborate on a range of community-based projects. Since 2001, more than 325 alumni have completed the Leadership Victoria program.
The LV teaching approach is based on four key pillars of community leadership:
know and manage one's self
lead through influence
navigate community systems, and;
make things happen.
Leadership Victoria believes in the "70 – 20 – 10" approach to learning, where 70% of learning is based on hands-on experience, 20% on community collaboration, and 10% on class lectures.
Each year a group of LV students come together to work in teams and take on a key community action project (CAP) that aims to improve and promote inclusion and diversity in the Greater Victoria region. For example, one LV team recently created the Booster Bench Project that promotes inclusion and anti-bullying among youth. Another team created the Get Your Ship Together Project which focused on providing life skills to at-risk youth and supports their transition into adulthood.
For this upcoming year that starts in November 2018, the CAP teams will work with one organization, Our Place. This decision to work with Our Place stemmed from the Victoria Foundation's 2018 Vital Signs annual report that indicated a lack of affordable and accessible housing as a key issue in our region. Leadership Victoria decided to focus on collaborating with Our Place Society to tackle homelessness and affordable housing. Leadership Victoria's Executive Director Mark Crocker highlighted that this partnership ensures that the Leadership Victoria team "collaborates to make local, lasting change" that is meaningful and relevant.
Leadership Victoria is committed to building community leaders committed to improving our community through meaningful and diverse collaborations. Mark Crocker emphasized: "If we don't have diversity in LV's personal engagement and strategies then we don't know what we will be missing". As LV moves into the coming year, plans continue to foster an even more diverse group of participants and professional volunteers that reflect the diversity of Greater Victoria. Leadership Victoria is always actively recruiting participants.
Mark Crocker enthusiastically reminds us of the LV motto: "Change the world, starting here. We're not for everyone. We're for leaders. "
For more information about Leadership Victoria, please check out their website: www.leadershipvictoria.ca