Website: http://www.icavictoria.org/
Phone number: 250-388-4728
Address: 930 Balmoral Road
Victoria BC, V8T 1A8, Canada
ICA's Settlement Program provides programs and services to support the settlement of immigrants, refugees, and refugee claimants residing in Greater Victoria. Settlement services include information and assistance with housing, schools, healthcare, income tax, the Canadian legal system, or any other questions newcomers may have about the adjustment to life in Canada. Settlement workers provide services in over 25 languages and are also able to provide translation and interpretation services.
Language Instruction for Newcomers to Canada (LINC) provides English language classes from beginner to advanced levels for adult newcomers to Canada. LINC is government-funded and free for students. The class times are flexible with available times including, morning, afternoon, and evenings during the week. Childcare services are also available during class times.
The Inter-Cultural Association of Greater Victoria (ICA) was founded in 1971 as a way to help create engaging cross-cultural connections and help newcomers. Today, ICA continues to provide a wide range of services for newcomer immigrants and refugees in Greater Victoria. These programs and services include English classes, employment services, settlement services, among others.
The employment services offered by ICA are developed in collaboration with WorkBC. The ICA employment resource centre provides newcomers support with job searched and postings, online applications, resumes and cover letters. The services are oriented to both newcomers as well as long-term immigrants who have been in Canada for many years.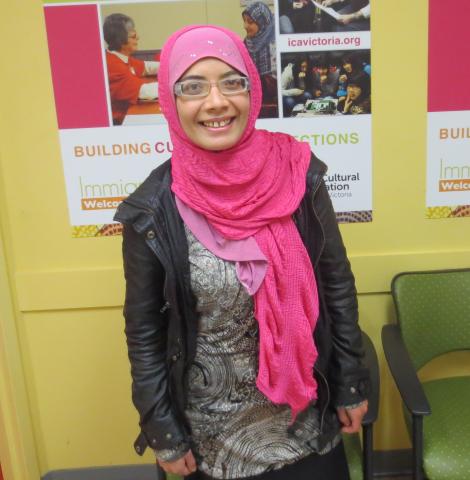 Rawiya Anibtawi
"I was born a refugee without nationality in Iraq. I'm originally from Palestine. I and my husband fled from Iraq to Syria where we lived at refugee camp after USA invasion of Iraq. In 2010, I immigrated to Canada as landed immigrant. My English was zero and I started right away to study English at ICA. It was not easy as mom, wife and mother of two children in addition to my very low vision to study English, but I'm so determine to speak, read, write and comprehend English Language as one of official languages in Canada. More importantly, I must study English and obtain certificate to apply for citizenship. It so important for me and my family to become Canadians because we never have nationality and Canada is one of respectful countries in the world and we as so aspiring to become Canadians. I thank ICA to help to learn English and for inspiring me to reach into level where I'm today. The friendship and unconditional assistance from ICA is behind my success. When I finished level 4, I have immediately applied for citizenship. I want to express my appreciation to my sponsors, to ICA and to Canadian people and government for their support and generosity". Testimonial from ICA Client, Rawiya Anibtawi