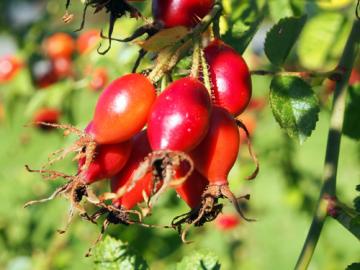 What better way to enhance potential for food security than harvesting local edibles, like rose hips? Rose hips are the fruit of the rose plant. They're plentiful in areas around Victoria (UVic campus to name one) and can be used for jelly, jam, syrup, soup, bread, and wine, to name a few. You can look for and add rose hip locations to this Victoria and Region Urban Harvest Map.
Rose hips are one of the richest plant sources of Vitamin C content available, and during World War II people in Britain were encouraged to gather rose hips and make vitamin C syrup for children. This was because German submarines were sinking many commercial ships and citrus fruits from the tropics were very difficult to import.
Below is a rose hip jam recipe by Ken Josephson:
As one of five children of Swedish immigrant parents, gleaning, casual harvesting, fishing, canning and preserving was a way of life for me. A lot of the foods we ate and the lunches I took to school were unfamiliar and sometimes just plain weird to my friends. (Try trading your fish roe sandwich for peanut butter and jelly!) Cold rosehip soup with a dollop of sour cream and hard boiled eggs was a treat on a hot summer day, as was an icy glass of rosehip juice or jam on a slice of warm home made bread.

I made some jam for a pit cook recently, held at the North Saanich Farm Market and a number of people asked for a recipe. I tend to be very casual about measuring and am used to making do with what's on hand.
Rosehip Jam
4 litres of fresh rosehips
2 litres of water (enough to cover the hips)
Pinch off the stems and rub away the dried flower ends of the hips. Wash them in cold water and put them in a large stainless steel pot with enough water to almost cover the hips. Bring to a boil and cook until very soft (about 30-45 minutes). Mash the hips with a potato masher, breaking them up, then press the pulp (do not press so hard as to break up the seeds) through a fine sieve into a large bowl. I cook the seeds and pulp from the sieve with some water, and press through the sieve again to get a bit more of the juice and pulp. After you've gotten as much pulp as you can, discard the seeds.
Bring the juice / pulp mixture to a boil and add:
1 1/2 cups apple cider vinegar
1 cup honey or maple syrup
Reduce the juice / pulp to the desired consistency adding more vinegar, honey or maple syrup to taste.
Fill sterilized canning jars, processing in a hot water bath at a rolling boil for 20 minutes.
Addling smokey chipotle chilies and lots of onion and shallots makes a great sauce for grilled fish or smoked tofu!
*With the local indigenous rose, Nootka rose or Rosa nutkana, be sure to keep the seeds out of your final product... they have fine hairs on them which may irritate your insides. It is easy to ensure they stay out of the final product however, so enjoy these delicious fruits!