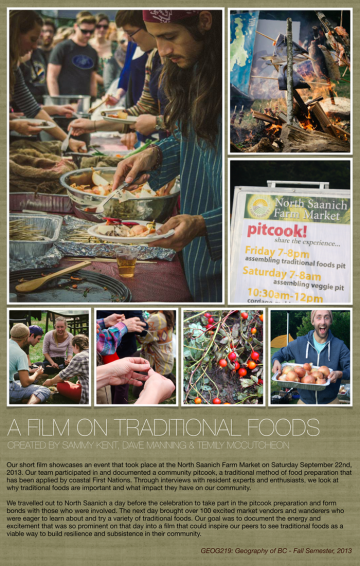 Our short film showcases an event that took place at the North Saanich Farm Market on Saturday September 22nd, 2013. Our team participated in and documented a community pitcook, a traditional method of food preparation that has been applied by coastal First Nations. Through interviews with resident experts and enthusiasts, we look at why traditional foods are important and what impact they have on our community.
We travelled out to North Saanich a day before the celebration to take part in the pitcook preparation and form bonds with those who were involved. The next day brought over 100 excited market vendors and wanderers who were eager to learn about and try a variety of traditional foods. Our goal was to document the energy and excitement that was so prominent on that day into a film that could inspire our peers to see traditional foods as a viable way to build resilience and subsistence in their community.
This film was created by Sammy Kent, Dave Manning and Temily McCutcheon as a final project for GEOG219: Geography of BC - Fall Semester, 2013, University of Victoria.
Told by:
Sammy Kent, Dave Manning and Temily McCutcheon