Community Mapping Collaboratory
The vision of the Community Mapping Collaboratory (CMC) is to facilitate student learning, locally-based and globally-relevant research, community engagement, sustainable community development and planning through participatory campus-community mapping projects. The Collaboratory is a campus-community governed and led local-global partnership which supports the Common Ground Mapping Network and Global Green Map system.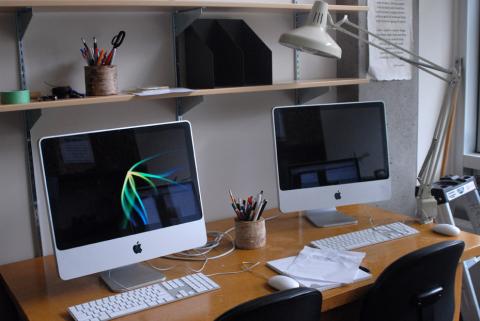 There are three CMC hubs at UVIc: (1) the Mapping Lab in the Faculty of Social Sciences Geography Department, (2) the UVic Library, which offers map and data access and support, and (3) the Institute for Studies and Innovation in Community-University Engagement (ISICUE), which is responsible for project and programming support and partnership development.
Based on 15 years of work between UVic and the broader community the Collaboratory now has funding and internshoused in the Mapping Lab in the David Turpin Building, room B209, at the University of Victoria.
The Community Mapping Collaboratory offers:
Project support for community mapping and participatory sustainability planning
A laboratory with access to physical and virtual tools for mapping projects
Technical support for community, student, and faculty research
The creation and facilitation of printed and virtual maps
Interdisciplinary community and university expertise on community mapping
Community and classroom education (credit and non-credit courses/institutes and round tables)
Co-coordinators/contacts
Hours
Monday: 9am to 4pm
Tuesday: 9am to 4pm
Wednesday: 9am to 4pm
Thursday: 9am to 4pm
Friday: 9am to 4pm
Access
Wheelchair accessible: Accessible ramps, rails, elevators and other facilities provided for people with disabilities.
Organization name
Community Mapping Collaboratory