Campus Bike Centre (UVic)
The centre provides covered bike parking for 234 bikes (horizontal and vertical racks, plus bike lockers), equipment lockers, benches and an expanded, renovated space for the SPOKES bicycle program. Racks are free for everyone to use, and lockers available for rent on a semester by semester basis ($40 for bike lockers and $10 for equipment) by contacting Campus Security.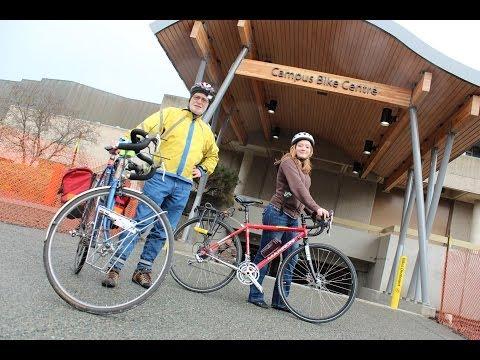 Available Amenities:
open Wednesdays 5:30pm – 8:30pm
Thursdays 6:00pm – 8:00pm
Fridays 11:30am – 1:00pm
Providing bike rental, loans, and sales, gear sales and bike repair assistance.
Covered bike parking
Bike Lockers
Clothing lockers
Bike kitchen, repair station, tool kits
Spokes program
Electric bike charging station
Related videos, images and documents