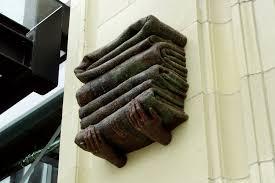 To Celebrate the City of Victoria's 150th Anniversary, the City commissioned Crystal Przybille, UVic Fine Arts graduate; to design a series of 12 bronze sculptures depicting life-sized hands that demonstrate activities symbolic of Victoria's history.
The hand sculptures depict eras and stories of the City's cultural past throughout the downtown core. To put in perspective, the website explaining the Hands of Time sculptures describes:"each piece reveals a depth of meaning about Victoria, and beckons exploration and contemplation;"it is unfortunate however, that the majority of the sculptures exist alone: they are not accompanied by a plaque to commemorate exactly what they symbolize. So, the true meaning behind the sculpture is essentially lost on the observer unless they log onto the official Hands of Time website to learn about the historical significance of the monument. For example, the online description for the Carrying Point Blankets reads as follows:
Location: On west entrance of The Hudson at 1700 Block of Douglas Street Description
This sculpture references the historical significance of the Hudson's Bay Company to Victoria's identity. The Hudson's Bay Company extensively traded wool point blankets during the North American Fur Trade.